The 3D printing process is a relatively new technology used to manufacture 3D models. It involves the use of CAD (Computer-Aided Design) information to print models in layers.
A 3D printing specialist is a person who basically works in a production or manufacturing environment with the following roles: 
Creating daily schedules for the printers.
Evaluate customers designs to make sure they are compatible with the 3D printing.
Provide input on how to streamline the 3D printing process, collaborating with production personnel to establish new work processes, and perform printer finishing work such as polishing or sand blasting.
Assist with the overall production environment maintenance tasks such as repairing or cleaning the 3D printers.
Assist with product development, including creating design processes or work in other production roles when called upon due issues such as staffing or personnel absence.
Oversee the printing process and give recommendation on what models a company can produce/manufacture.
Let's talk more about how to become a 3D printing specialist, the type of degree required, and their income range.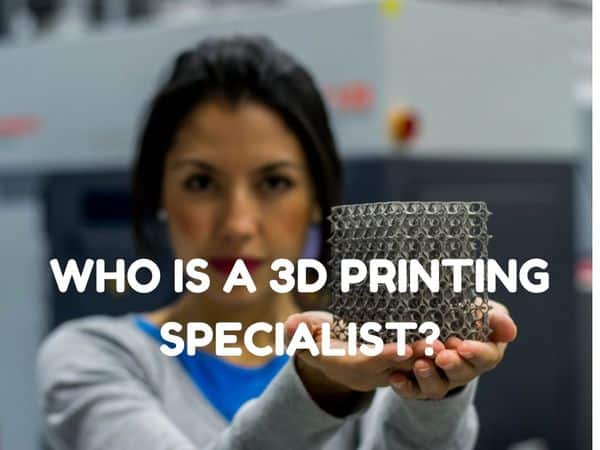 How to become a 3D printing specialist?
The journey to becoming a 3D printing specialist is not yet clear, apparently. However, having a design background and a degree in subjects such as mathematics and engineering could be useful in this journey.
---
On a side note! If you're looking for a reliable and high-quality 3D printer, we highly recommend the Official Creality Ender 3 V2 Upgraded 3D Printer (Amazon Link).
This printer is an upgraded version of the popular Ender 3 model, with a range of new features and improvements that make it even easier and more convenient to use.
The Ender 3 V2 is an excellent choice for beginners, kids, and experienced users.
---
Professional course
The most relevant degrees to 3D printing technology include:
Training
Hands-on training on 3D printing will be provided on the job. You can apply for internship or apprenticeship positions for hands-on training. 
Progression
As a 3D printing specialist, you may want to progress and become a 3D printing manager, with a bigger role of overseeing the work of a 3D printing specialist. You may also resolve on working on a self-employed basis, offering your services to a range of customers.
Work experience
Work experience within a 3D design environment is crucial to enable you to roll into a 3D printing career. CAD (Computer-Aided Design) skills will help you stand out. You also need customer service experience to help you 'wow' your customers. (Source)
How much do 3D printing specialist make?
The average salary of a 3D printing specialist in the United States is $13.91 per hour. The range surrounding this average can vary ranging from $23,000 to $35,000, meaning 3D printing specialists have a great opportunity to scale up their earnings as they progress past entry-level roles.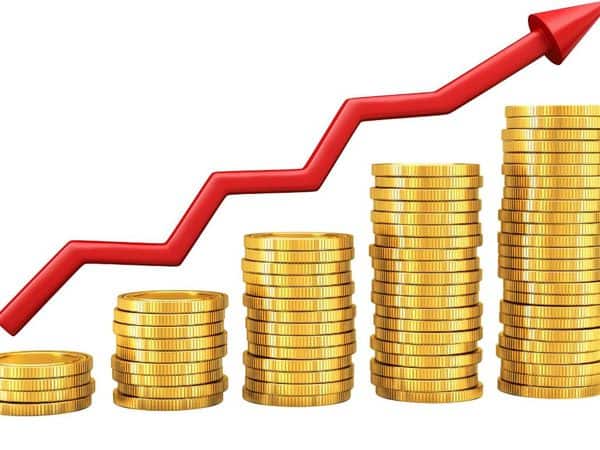 What degree is required for 3D printing? 
Even though 3D printing is an emerging new industry, there are specialist subjects and degrees you need in order to become a 3D printing specialist. These degrees include:
Bachelor's degree in Mechatronics
Bachelor's degree in Bioprinting
Bachelor's degree in Computer Science
Bachelor's degree in Mechanical Engineering
Bachelor's degree in Civil Engineering
Bachelor's degree in Chemical Science
You can also take an apprenticeship in Software Engineering or Development to help you get the technical knowledge required as a 3D specialist.
Degree programs that are specific to 3D printing are not regularly offered by colleges or universities. However, this is something that is in the final stages of consideration, and very soon there will be courses specific to 3D printing.
Also, check out our post "Are 3D Printers Hard To Use? How Hard Could It Be!"
Academic careers applicable to 3D printing career
For those interested in a 3D printing career, there are a number of available options. Here are a few examples of potential academic careers in 3D printing.
Software Development
One of the key concerns in 3D printing is the need for more user-friendly software to help with the design and manufacturing of 3D printing products. Therefore, the 3D printing industry has no doubt become a top consideration for software engineering professionals who are needed to write codes that will help improve 3D printing products.
Animation Art and Design
Animation designers and artists have been in the past employed to create animations for video games, films, and televisions. However, the advent of 3D printing and CAD has opened up new career options for these professionals. In addition to 3D printing, the professionals also require coursework in sculpture, computer graphics, drawing, and CAD.  
Architecture
3D printing has various applications in construction and building design. Therefore, a degree in architecture is a door opener to 3D printing career opportunities. Ensure you look for programs that you take programs that include courses in CAD and 3D printing.
On another note, you might be also interested to learn about 3D printing in construction and the expected life span of 3D printed buildings in How Long Do 3D Printed Homes Last? Materials Used, Durability & Lifespan
Biomedical Engineering and Technology
Biomedical engineering and Technology combines engineering and science with physiology and biology to analyze and address healthcare and healthcare delivery problems. Graduates of this discipline can focus on careers geared towards developing and improving medical procedures and devices.
This may include assignments such as designing and evaluating artificial organs, new equipment, or prostheses to maximize human performance. 
Check out our article on the impact of 3D printing in the medical field.
Industrial Engineering
Engineering is the largest source of 3D printing professionals today. Industrial engineering has been trained traditionally to eliminate waste and increase productivity in the production process and industrial environment, respectively. Therefore, industrial engineers use 3D printing to design and build machinery geared towards supporting standardized production methods and rapid prototyping.
Mechanical Engineering 
This discipline is a combination of construction, machines, and design, making it an ideal path for anyone interested in the 3D printing industry. A degree in mechanical engineering equips students with a strong mathematical knowledge as well as knowledge and skills in applied physics.
All these backgrounds are applicable in 3D printing, as graduates will be capable of designing and manufacturing models, from small individual models to large-scale devices and systems.
Computer Programmer
The 3D printing process relies on knowledge and skills in science engineering, arts, technology, and mathematics, making the computer programming discipline another option for students with an interest in the 3D printing industry. Computer programming expertise will code programs used to produce solid structures of all sizes and shapes.
CAD or BIM Architect
BIM architect or Computer-Aided Design (CAD) uses software programs to generate, design, and manage computer representations of physical infrastructures and structures. You can check the role of CAD in 3D printing for more insightful information.
R&D (Research and Development)
Research and Development professionals explore new processes and materials to come up with better ways to improve or develop 23D devices.
3D Environmental Artist
Computer game companies, graphic art films, and architectural and design films look for 3D environmental artists. 3D printing jobs will require wide experience and training in a vast range of design software formats. (Source)
Find out more 3D Printing Career Opportunities in our article here
Does 3D printing require coding Knowledge?
No, 3D printing does not require coding as mandatory knowledge. However, there are two aspects related to coding within the 3D printing industry. The first one is 3D graphics programming, while the second one is programming the 3D printer itself. These two vital aspects are what make coding relevant in 3D printing technology.
The current exiting 3D printing software is less user-friendly than the mainstream applications. However, with the progress in technology, there will be a need for programmers who can code better interfaces, cross-platform software, and more functions and features that can make operations within the 3D printing industry more productive and user-friendly. 
In the coming years, coding will be an important skill, with continuous growth in the need for programmers in the 3D printing industry. Graphics coding will enable users to create advanced 3D objects based on realistic solids. You must not be an artist! All you need is to know what is required of the 3D model and how best you can code it.
Wrap Up
The tremendous growth in 3D printing technology and its dynamics effects on the industrial process is creating a vast range of rewarding new opportunities. These opportunities can be tapped by those who are both mechanically and creatively inclined with the right knowledge and training.
Degrees in other fields such as animation, engineering, Art, technology, mathematics can bring about new career opportunities within 3D printing technology.
In case you would like to contract out 3D printing services in your industry, look no further. You can get professional guidance at 3D Print Schooling.