Many Names and Innovations Have Led to Today's 3D Printed Homes
3d printed houses use the same concept of 3d printing, however, it adds extra layers of sophistication to allow 3d printers to build structures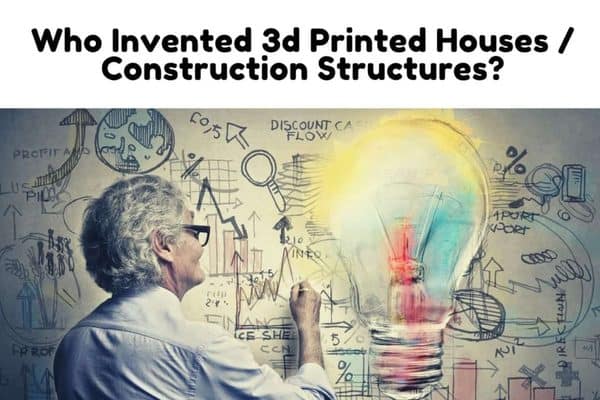 Much of the groundwork for 3-D printed homes can be credited to Charles "Chuck" Hall – co-founder of the trailblazing company, "3D Systems", which sought to combine CAD-based software with photochemistry in what is today widely known as "steriolithography" (or "SLA" technology). From there in 2005, Italian inventor Enrico Dini patented an innovative powder and jetting 3-D printing technique that he called "D-Shape to overcome many of the common challenges associated with 3D printing for construction.
2006 would see University of Southern California professor, Dr. Behrokh Khoshnevis unveil a specialized 3D printer he deemed "the Contour Crafting System", with the capability of fabricating entire an standing structure from the ground up.
---
On a side note! If you're looking for a reliable and high-quality 3D printer, we highly recommend the Official Creality Ender 3 V2 Upgraded 3D Printer (Amazon Link).
This printer is an upgraded version of the popular Ender 3 model, with a range of new features and improvements that make it even easier and more convenient to use.
The Ender 3 V2 is an excellent choice for beginners, kids, and experienced users.
---
Finally, in 2021, 3D printing engineering firm "WASP" (or, "World's Advanced Savings Project") located in Massa Lombarda, Italy partnered with the Mario Cucinella Architects (MCA) studio to bring to life the world's very first 3D-printed home prototype, made entirely of eco-friendly materials and resources such as Earth and water . The project was titled, "Tecla"(Source).
For more on 3D printed houses process, check out our post How 3D Printed Houses Are Made ? Steps & Materials Used!
No doubt about it, the idea of 3D printing for home construction has certainly gained steam in recent years. In fact, a Dutch-based company named DUS Architect has been developing a project since 2014 to construct a canal home with the help of an oversized, crane-like 3D printer that goes by the name of "Kamermaker" (that's "Room Builder" for you English-speakers). Yet unfinished, the architectural firm claims it's still interested in bringing the project to completion (Source)
However, you won't have to wait long to check out some exciting new projects taking the 3D printed world by storm. These include a project by architectural firm Mense-Korte and the PERI Group, as well as one courtesy of U.S. based company, SQ4D.
The American-based project was listed for sale in Riverhead, Long Island for $299,000 USD, while Mense-Korte and the PERI Group's efforts earned them the German Innovation Award for 2021.
For more on the cost of 3d printed houses, check out our post How Much Does a 3 D Printed House Cost? & Can I Build My Own 3D Printed House? Hidden Costs & Prices of Construction 3D Printers !
While all of these projects claim to be "first", only the Tecla is entirely constructed from the ground up using a 3-D printer. The other projects cited here feature components shaped using a 3-D printer, but usually assembled later by professional human hands.
The multifaceted technologies used throughout the 3D home-printing process can be attributed to a number of inventors and companies since the 1980's onward, making it difficult to narrow down the inventor of 3D printed homes to a single individual.
However, it can't be denied that Enrico Dini is the very first to accomplish the feat of building a home in its entirety using solely a 3-D printer, with Dr. Behrokh Khoshnevis also closely associated with bringing the technology used in the process to market. (Source)
Also check out our post "Is a 3D Printed Home Structurally Safe? " & Is a 3D Printed House Safe? The Good, The Bad & What One Must Know