Today, there are many 3D printing users across the globe, and now minors can get into the action too!
The concept is pretty simple, which is to design, slice, and print. However, you will still need to explain how it works to them.
In this article, we are going to answer certain questions that will guide you on how to perfectly explain 3D printing to your kids especially those at preschool which will help them in designing and printing objects in 3D.
But before going any further, make sure to check out our post on Are 3D Printed Items Kids And Baby Safe? Potential Hazards And What Not To Do!
---
On a side note! If you're looking for a reliable and high-quality 3D printer, we highly recommend the Official Creality Ender 3 V2 Upgraded 3D Printer (Amazon Link).
This printer is an upgraded version of the popular Ender 3 model, with a range of new features and improvements that make it even easier and more convenient to use.
The Ender 3 V2 is an excellent choice for beginners, kids, and experienced users.
---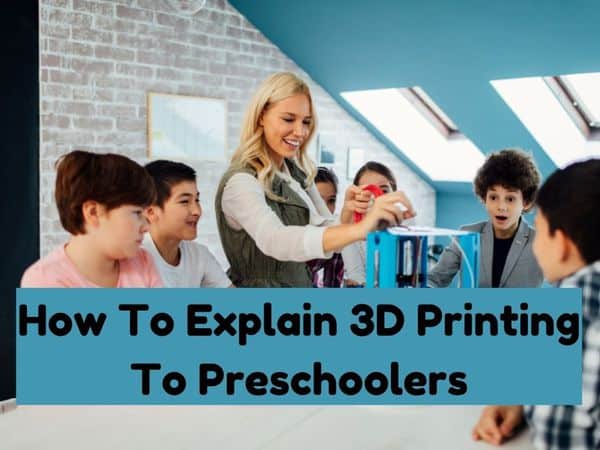 What Is 3D printing in on statment ?
While extruding plastic filament from your 3D printer, you will be building 3D objects one layer after the other. If you have a high-quality 3-dimensional printer, you are capable of producing new 3D models quickly without omitting important details. 
3D printing, also referred to as additive manufacturing simply means the process of making 3D print models using 3D printing devices. It is an additive process whereby material layers are built up to create a 3-dimensional object, as opposed to subtractive manufacturing, where the final design is a larger material block.
3D printing is a fantastic way of involving your kids to think about problem-solving, creative thinking, and special skills.
How does 3D printing work; Kids friendly explanation?
Various technologies go into 3D printing but let's simplify the process of 3D printing in a way that it would be easy for you to explain to your kid. Here is how the process goes:
The 3D printing plastic wand around a spool is placed in the 3D printer
The printer then uses the plastic material and pour one layer after another until an object is formed.
Why 3D printing is important for kids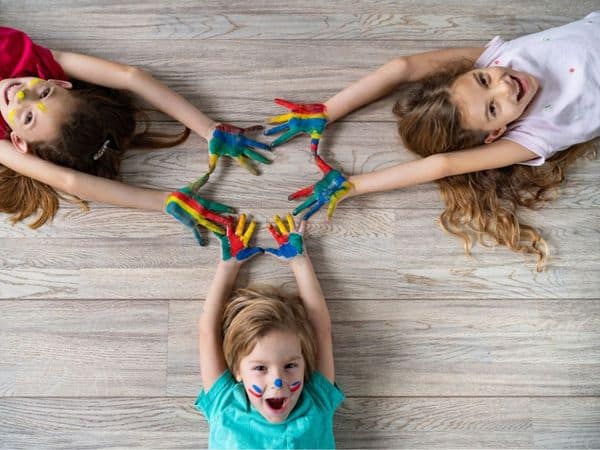 With the way the world keeps changing, technology is gradually taking over, and 3D printing is an aspect of technology that is soon to take over so many industries especially schooling and education.
Kids spend a bulk of their time in school, and with the way 3D technology is gradually being incorporated in school lessons, you must be wondering why this is important.
It's not enough for theories to be taught to kids, they have to engage in some sort of practical experiment to help them solidify any concept taught.
It helps kids to be more innovative and creative.
With 3D printing, kids can think outside the box and create things different from what exists today or recreate already existing things. With this skill, kids can learn from an early age how to design what they need instead of constantly buying and consuming what others have created.
It helps kids expand their imagination.
With 3D printing, you need to have a good imagination and the ability to visualize things before they are created. This can be interpreted as having a good artistic ability. When your kids have this, they are free to create whatever art they want to create. You can use the 3D printing software for beginners to help familiarize your child with the whole 3D printing process.
It helps to improve the participation of your kids in learning.
Interactive learning is very important especially with kids as they are known to have a more reduced attention span than adults so it is important to keep them engaged and explain the practicality of any concept.
Kids get bored with things early and if you want them to actively participate in learning any concept, you have to involve illustrations to convey the message better, and 3D printing is a good way to provide such illustrations. (Source)
3D printing for kids: What you need to know as a parent
3D printing technology can offer amazing future career opportunities for your kid. However, for most parents, it still appears a mysterious subject. For kids, 3D printing may turn out to be fantastic to bring out creativity. It allows the production of anything from custom prosthetics to art and toys. It looks like the only limitation to this amazing technology is imagination.
With 3D printing techniques, such as 3D digital sculpting and 3D extrusions, your kid will have the capacity of transforming from their imagination, simple geometric shapes into amazing models. Your kids can also learn the best practices associated with 3D design and printing. (Source)
In case you are looking forward as a parent to introduce your kid to this amazing world of 3D printing technology, here are some crucial things worth knowing first.
Check our post on Why Are People Scared Of 3D Printing? Myths, Facts! Potential Ethical & Legal Issues
Is it okay Get Your Kid A 3d Printer?
Are you aware your kids can print and design in 3D? You might be aware but before you think of getting your kids a 3D printer, the elephant question in the house is whether the 3D printing process is safe for our kids?
When it calls for 3D printing for kids, you must take safety considerations into account. During the printing process, some 3D printers will remit small plastic particles into the air, which are not only harmful to breathe but can also worsen conditions for people with breathing conditions like asthma.
Other risky health concerns include the heated nozzle and the moving parts that may risk tapping body parts, hair, or article of clothing. Also, the printer's nozzle may exceed 260 degrees Celsius, which can cause severe burns if touched.
With all this information in mind, it is not recommended to leave your kids unattended when 3D printers are in operation. 
If you purchase a printer that is not enclosed fully, you should keep it in a well-ventilated room to avoid the hazardous dangers that it might pose to the surrounding.
It is also advisable to avoid gathering around the printer once it has been set operational to avoid breathing in dangerous particles that come from the printer. Instead, you are advised to set up a webcam to enable your kids to watch the entire printing process, should they be interested. (Source)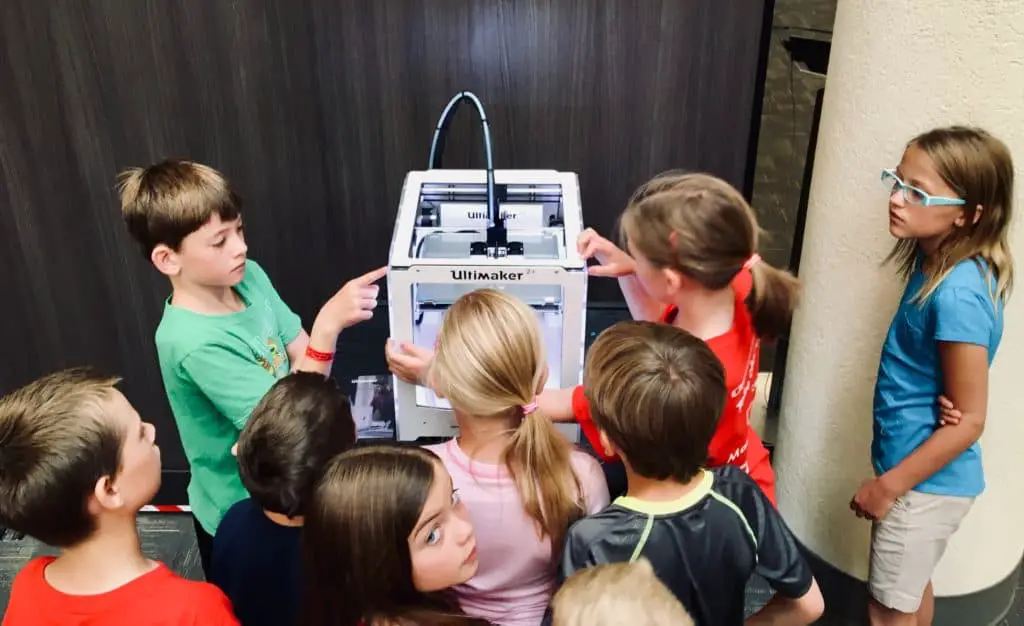 Now let us have a look at some of the most important factors you need to observe should you choose to get your kids a 3D printer.
Keep doors and windows open while printing.
Ensure your kids wash their hands with soap after every use of the 3D printer.
Use safety google and gloves when handling the printer.
Avoid chewing gum, eating, handling contact lenses, and drinking when around the 3D printer machine.
Inspect your printer before use by your kids. If there is any exposed wiring, or it looks damaged, do not use the 3D printer.
Keep the printing surrounding clean. You can use a dump cloth to prevent creating any airborne particles.
Also, take the size and design of the printer into consideration. Choose a 3D printer that is lighter. Large printers can be hazardous if your child attempts to move them.
It is recommended that you use a fully enclosed 3D printer to help reduce airborne particles from spreading inside the printing room when printing.
Ensure you use safe plastics. If you intend to make toy gadgets, PLA and ABS are considered safe plastics for kids. PLA material is a nontoxic bioplastic that is eco-friendly, odorless, resistant to warping, and easy to print.
3D printers for kids
The most common 3D printers for kids currently available in the market include:
Toy box
FlashForge 3D Printer Creator Pro
QIDI Technology 3D printer
ANYCUBIC Photon
Check out our article on the minimum age a child is allowed to use a 3D Printer: Risks, what not to do, and suggestions.
Wrap Up
With appropriate supervision and care, 3D printing is an amazing 3D technology that you should never miss introducing to your kids.
It does not only encourage creativity amongst kids, but it also equips them with head start skills for learning technology that is today becoming an essential part of almost every industry.
Having a 3D printer installed in your home will equip you and your kids with essential tools to express creativity while practicing important STEM (Science, technology, engineering, and Mathematics) and artistic skills that will help shape the foundation of a successful feature for your kids.
Don't wait for tomorrow when making crucial decisions that are geared towards shaping the future of your kids! The time is now, go for a 3D printer for your kids.  
Do you have any queries about 3D printing for kids? Worry not! At 3D Print Schooling, we shall help you learn more about the safety and standards you need to set and guide you on the best technology to choose when choosing to introduce your kids to 3D printing and design.