3D construction is a novel concept and with it arises the skepticism amongst many about their durability. Homes are a one-time investment for most homeowners, so your concern about their longevity is valid.
With every new technological advancement, the convention is challenged and with it, the confidence in the tried and tested. 3D constructed houses present the same problem.
So, how long do 3D printed houses last? 3D-printed houses can last anywhere from 60-100 years. This is equal to or even longer than the life of a house built using conventional means. There are several factors to consider when determining lifespan, however, on average, a 3D printed house should outlive its tenants.
With every new technology, comes its challenges. In the effort to become more sustainable, we have taken many steps to increase our efficiency so that we can get maximum output, with the least amount of input.
---
On a side note! If you're looking for a reliable and high-quality 3D printer, we highly recommend the Official Creality Ender 3 V2 Upgraded 3D Printer (Amazon Link).
This printer is an upgraded version of the popular Ender 3 model, with a range of new features and improvements that make it even easier and more convenient to use.
The Ender 3 V2 is an excellent choice for beginners, kids, and experienced users.
---
3D printing and by extension 3D construction are perfect examples of that. It uses fewer materials, takes less time, and is repeatable. This allows us to maximize our output to cater to our needs.
3D housing could mitigate problems like rising housing prices, increase in population, and climate change.
It is a well-engineered solution to our problems and it has shown promise. With the use of the right materials and construction techniques, we can make houses that last long, are durable, and have the potential to be environmentally friendly.
3D constructed houses present a lucrative choice, as they are cheaper, quicker to build, and offer creative freedoms to their owners. So, how do they perform in the long term?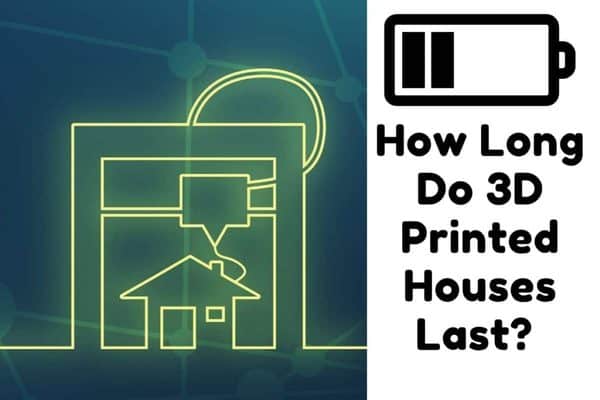 As for costs, you can get informed in How much does a 3D printed house cost? and in Is the 3D printed housing market stable?
You can also read on the structural safety of 3D Printed Houses in Is a 3D Printed Home Structurally Safe? and fire safety in Are 3D printed houses fireproof?
How Durable Are 3D Houses?
3D construction, although a relatively new technique, promises to be a reliable one. Considerable research has gone into the methodology and early adoptions have shown great potential.
The construction group PERI completed the first 3D printed house in Germany in early 2021 and so far, the project is seen as a success. (Source)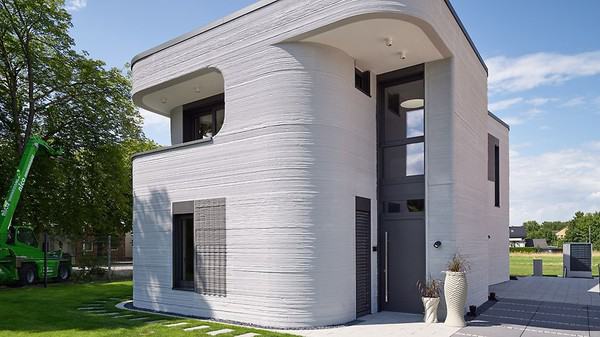 Apart from houses, 3D construction has also been used to build other structures, like the stainless-steel pedestrian bridge in the Netherlands and the two-story building in Dubai, among many others. ( Source A )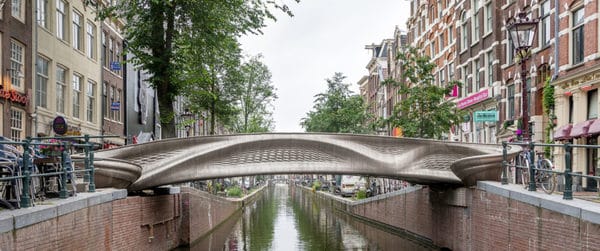 Both projects were the first of their kind and their success gives an optimistic outlook for the future of technology.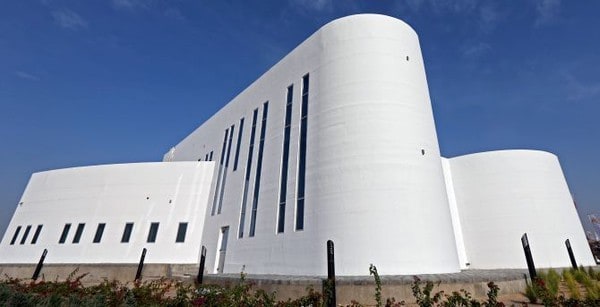 Both projects were the first of their kind and their success gives an optimistic outlook for the future of technology.
What Factors Affect the Lifespans of 3 D Printed Houses?
The great thing about 3D construction is its versatility. The life of the house you build is directly linked to what material you end up using. Concrete is the most common one and according to the table below, it has an impressive lifespan.
In a study done by the National Association of Home Builders (NAHB), the lifespan of different construction materials was analyzed and as shown in the table below, the type of material plays a massive role in determining the life of a house.
| Material | Lifespan (in years) |
| --- | --- |
| Wood | 30-50 |
| Brick (Masonry) | 100+ |
| Concrete | Lifetime |
Construction Material Vs Expected Lifespan
Maintenance is another aspect that needs to be looked at when considering 3D constructed houses. Much like their conventionally built counterparts, houses will need regular maintenance depending on the material used.
Masonry will require plastering to ensure longevity and to prevent corrosion.
Wood will be the most vulnerable (and before you ask, yes there are 3D printed wooden houses. (Source) and will require regular repainting and pest control.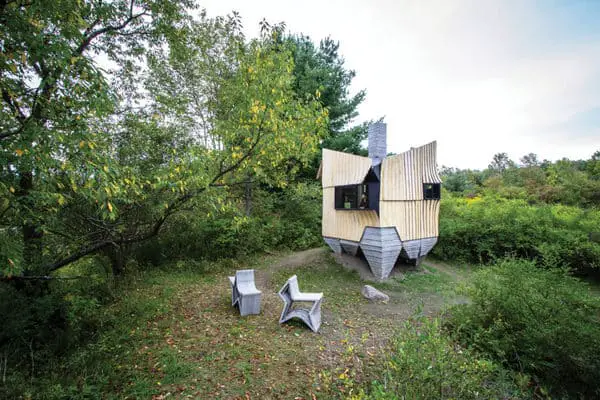 Discussing the life span of 3D print houses also raises the question of affordability, which is answered in Are 3D Printed Houses Affordable?
Impact of Construction Techniques on 3D Printed Houses
Another factor to consider here is the construction techniques used in 3D printing. Primarily, 3D constructed homes rely on the layering of the construction material, which is used to give the structure volume.
The roofs can then be placed on top, or the house can be given a dome shape, which results in a self-supporting, free-standing structure.
Is Rebar Used in 3D Printed Houses?
Re-enforcement bars (rebars) are used to strengthen concrete so that it can carry more weight without failing. It is commonly used in conventionally constructed houses. In 3D constructed houses, however, the inclusion of rebar is adopted in special cases. Since it is a layering process, no obstacles can come in the way of the printer head during the placement of the material (least of all steel bars sticking out at regular intervals).
We covered this issue in detail in our article on Do 3D Printed Houses Use Rebar?
So how Do 3 D Printed Houses Gain Strength without Using Rebar?
3D printed houses use additive manufacturing (the layering process) to create self-supporting and free-standing structures, that can support their own weight without additional reinforcement.
Domes operate on the same principle, and they have massive spans with no reinforcement or pillars to support them. They too are free-standing structures. Some of the oldest surviving structures in human history incorporated domes in their designs, so it is safe to assume that they are durable.
In a few instances, however, reinforcement has been incorporated into 3D construction. Fiberglass, mesh, and basalt rebar have been successfully used, but their incorporation into the 3D construction process has varied a lot. The strength addition, however, has been on par with conventional rebar. (source)
Hybrid uses and the combined effect of the two techniques described above should give you the confidence that your next home (which may well be a 3D printed one) will last a long time!
How Does the Weather Affect 3D Printed Houses?
Due to the modular nature of 3D printed houses, a genuine concern could be regarding their reliability in the face of adverse conditions. As mentioned before, the durable materials will yield durable houses and the opposite of that is true as well.
Concrete houses can easily withstand rain, sunlight, and changes in humidity, and if they are reinforced (which as we saw above can be done in 3D printed houses), they can have a multi-century lifespan.
Wood will be the weakest of these materials due to its organic nature and its susceptibility to corrosion, humidity, rain, and pests.
The safety of your house is a plausible concern. Click here to learn more about the safety of 3D printed houses and do check out Are 3D Printed Houses Hurricane Proof?.
3D houses Can be Made of Clay!
One special case that needs to be taken into account here is the use of clay for 3D construction. This material has the potential of being revived with the rise of 3D printing, because of its flowability (much like concrete).
Tecla, designed by an Italian architect, is an example of a 3D-printed house made entirely out of clay. Obviously, the concern here is the effect of rain on such a structure.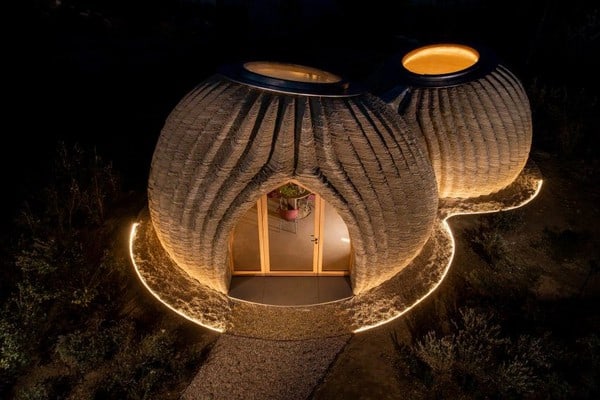 There are a few ways to mitigate that problem. Ideally, these houses should be constructed in climates where there is very low precipitation. If there is precipitation, then protective layers (like paint) can be applied to the outer walls to shield the clay from water.
Maintenance, like mentioned before, will play a key role in determining the life span of 3D printed clay houses, but if done right, it is an attractive proposition. 3D printed clay houses, unlike many, are sustainable and their impact on the environment is minimal.
If you want to read more about the environmental impact of 3D printing, click here!