Every few decades technology advances in ways we did not expect. CNC machining for example, has had a massive impact on manufacturing. 
Before CNC if you wanted to get into manufacturing, you needed an army of skilled technicians. Now we have computer-controlled robotic arms working a thousand times faster without pause or risk of injury. 
Almost a decade ago, many saw 3D printing as the next logical step in the industrial revolution. Now instead of one giant robotic arm making stuff, we would each have smaller ones in our homes. While this hasn't quite happened due to the limitations of 3D printing, it still represents some interesting opportunities. 
Glowforges are much newer than 3D printers having only come onto the scene around 2015. Since then they have become one of the highest grossing Kickstarter projects to date, crowdfunding $27.9 million in 30 days.
---
On a side note! If you're looking for a reliable and high-quality 3D printer, we highly recommend the Official Creality Ender 3 V2 Upgraded 3D Printer (Amazon Link).
This printer is an upgraded version of the popular Ender 3 model, with a range of new features and improvements that make it even easier and more convenient to use.
The Ender 3 V2 is an excellent choice for beginners, kids, and experienced users.
---
Glowforges are subtractive CNC machines. Laser cutting is one of several types of subtractive manufacturing where material is cut from a solid block to get the desired part. 3D printers on the other hand are additive CNC machines. In a 3D printer material is added to produce the desired object.
But what exactly is a Glowforge, what can you do with it and how is it different from a 3D printer? Let's find out.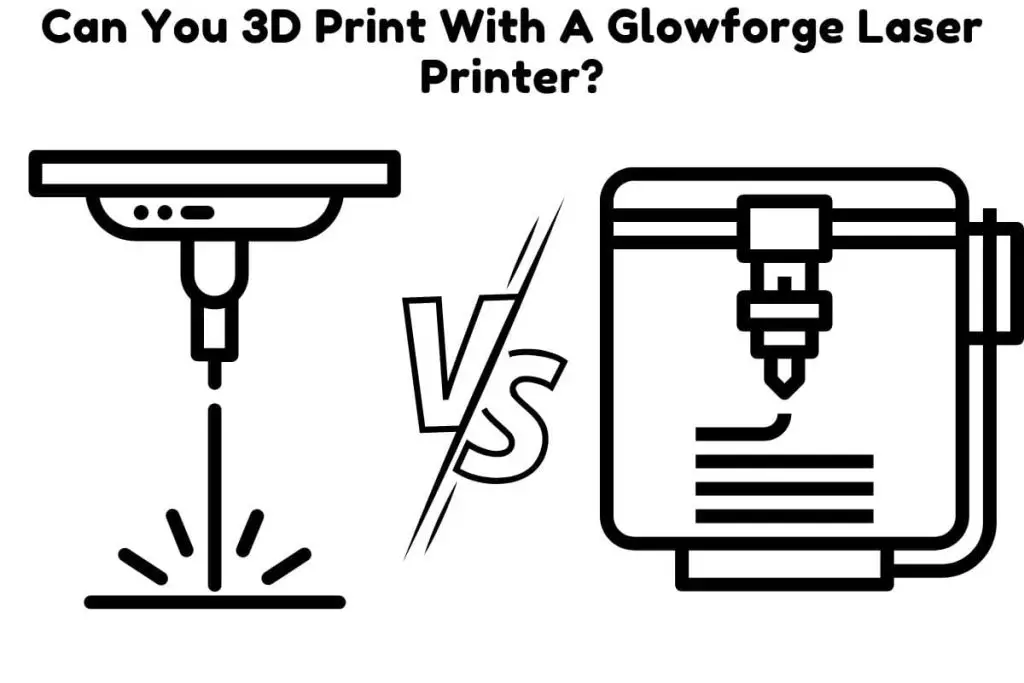 What Can You Do With A Glowforge Laser Printer?
A Glowforge is a desktop CNC laser cutter and engraver. It is used to cut, score or engrave a selection of materials. In a Glowforge, a powerful laser beam that can cut through materials is created when high voltage is run through a glass tube filled with CO2. 
The laser differentiates Glowforges from traditional CNC cutters that use saw blades or drill bits. Consequently, they are cleaner, safer more precise machines. 
Glowforge Vs A 3D Printer
Glowforges are subtractive CNC machines. Laser cutting is one of several types of subtractive manufacturing where material is cut from a solid block to get the desired part. 3D printers on the other hand are additive CNC machines. In a 3D printer material is added to produce the desired object.
Both subtractive and additive manufacturing have their strengths and weaknesses. Generally, subtractive manufacturing produces stronger parts with smoother finishes in a faster process. It can be more expensive and slower for prototyping.
Additive manufacturing produces parts with much better detail and produces less waste. The biggest downside to additive processes compared to subtractive is their strength is compromised, the build process is slower and only a limited amount of items can be produced.    
What Projects Can A Glowforge Do?
One of the core strengths of Glowforge laser cutters is their user friendliness. Their easy operation makes them accessible to beginners who can use them to create homemade tools, jewelry, name plates and almost anything that requires cutting, scoring or engraving. 
Glowforges have a simpler workflow compared a 3D printer. In a 3D printer:
The print starts out as a 3D model which is downloaded, scanned or designed from scratch using 3D modeling software. 
The 3D model is then run through a slicing software that slices the model into layers and sets out parameters for things like print speed, temperature, layer height and more. 
From there the model is saved as an STL file for printing on a 3D printer. 
In a 3D printer there are more steps and pieces of software used. Glowforges have fewer steps:
Create your design using the free Glowforge web-based app. Alternativley you can use graphic design software like Adobe Illustrator, Photoshop or Gimp. You can also download templates from sites like Etsy, Library Laser, Vecteezy and more. 
After you have created your design you can go straight to print without going through the hassle of layering your print with a slicer as with a 3D printer.
They can be used to build almost anything from a simple personalized cutting board to a more complex project like IKEA assembly furniture. As with 3D printing, possibly the biggest limitation to what you can do is your imagination.
You also don't need to build stuff yourself to get involved in laser cutting. You can also create designs which you can share or sell on marketplaces as templates. Some sites where you can sell your designs include:
Laser Ready Templates
Dreaming Tree
So Fontsy
The Hungry JPEG
CNC Design Shop
CNC DXF Files
Love SVG
Can You Print On Paper With A Glowforge?
Glowforges support a variety of materials including paper. They however produce much better results when cutting or engraving more solid material like leather, wood, acrylic, rubber, titanium, marble, or glass. They can even be used to engrave on devices (phones or laptops) as well as food.
Paper is rather soft so might not produce the best cut or engraving. This also goes for soft metals like gold, silver, brass, or copper so you might want to hold off on trying to engrave your jewelry or silverware. 
What Size Materials Can You Use In a Glowforges Laser Printer ?
Glowforges come in three models namely the Glowforge Basic, Plus, and Pro. They can each fit materials measuring up to 18" deep, 20.4" wide, and 2 inches tall with a maximum printable area of about 11 by 19.5 inches. 
It can cut through a material as much as half an inch thick although you might have to do a few passes or turn the material over. It can engrave material up to two inches tall.  
Is Buying A Glowforge Worth It?
A Glowforge costs between $4,000 to $7,000. It does, however, offer improved utility at a fraction of what it would cost to outsource any printing or cutting if these are consistently required services. It can also pay for itself within 12 to 18 months when used for commercial purposes.
The key here is how often you would intend to use it. For example, a gift shop might see a good return from having its own engraver rather than having to outsource this. The biggest pros would be that it's easy to use and you can get ready-made designs for free.
For someone who might barely use it, the return on investment would be low given the cost of the machine and materials.
What Is The Life Expectancy Of A Glowforge?
The most important part of a laser cutter is the laser itself. There is no official communication on the lifespan of a Glowforge. In general, however, lasers are estimated to last for about 10,000 hours of use.