When you consider constructing a swimming pool in your backyard, consider using 3D printing technology. One of the key reasons you need to consider using 3D printing technology when constructing a swimming pool is that it provides a 'real life' envision of how the completed project will appear when constructed. 
A 3D pool technology will enhance envisioning what your completed swimming pool will look like when completed. A 3D printing rendering enables engineers to move the swimming pool to different locations within the construction yard to help them see how it will appear. This technology gives engineers the opportunity to envision a vast range of pool shapes as well.
So, can you 3D Print a swimming pool? Yes, you can 3D Print a swimming pool noting that printing in larger layers must be enabled along with the application of an epoxy resin coat to seal any holes or gaps in your 3D printed pool.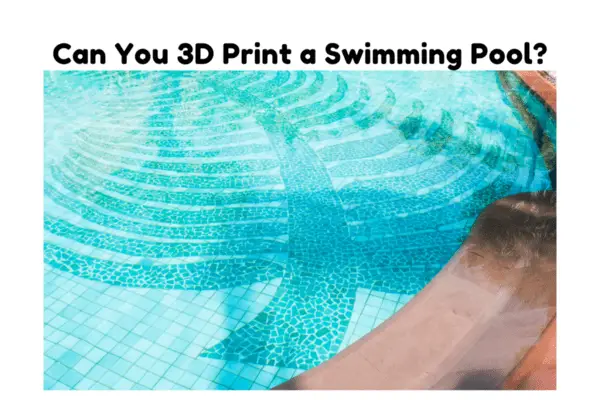 More to learn on 3D printing in construction in Could A House Be 3D Print To Include Plumbing and Electrical Components?, Is a 3D Printed Home Structurally Safe? and Do 3D Printed Houses Use Rebar?
---
On a side note! If you're looking for a reliable and high-quality 3D printer, we highly recommend the Official Creality Ender 3 V2 Upgraded 3D Printer (Amazon Link).
This printer is an upgraded version of the popular Ender 3 model, with a range of new features and improvements that make it even easier and more convenient to use.
The Ender 3 V2 is an excellent choice for beginners, kids, and experienced users.
---
A 3D printing company based in the USA known as White Clouds created the first-ever 3D-designed swimming pool. Created in conjunction with the Cutting-Edge Pools, the pool was designed and printed using 3D technology to give the client a clear vision of what exactly would be the end product on just a smaller scale. 
3D printed swimming pool technology is used today by swimming pool design engineers to enable clients to envision what the end product will look like before the actual construction begins. It enables clients to envision what the end product will look like on a smaller scale. When the design is completed, you have the opportunity to assess it and propose any changes required before resolving on building the actual pool.
We also suggest reading our article on 3D printed houses' durability to get the full picture and understand how 3D printed houses are safely constructed.
Will it leak?
Generally, 3D printed swimming pools created normally are likely to leak because there exist many small gaps throughout the model. You need to have your 3D printed model optimized in order to achieve an airtight or waterproof design.
Most 3D printed water pools are not waterproof because 3D printing technology creates several layers generated on top of each other, and in most instances, your printer nozzle can get clogged during printing. This can lead to imperfections in your 3D prints.
Most of these perfections may lead to some sections of the printed pool model having large or small holes, making it leak. The larger the layer height for your 3D design, the less accurate your model dimensions will be. This can lead to a 3D printed swimming pool that is not airtight or waterproof.
Here are some of the guidelines you can follow in order to make your 3D printed pool airtight and waterproof. These steps range from picking a good 3D print pool model, to adjusting your print slicer settings, to posting 3D print model treatment.
How to make a 3D printed pool?
There are a few companies with the technological capabilities to construct 3D printed pools, which will most likely be fiberglass pools. We do not recommend attempting "to-do" by yourself as you will be limited by the size and capacity of traditional printers.
Therefore we advise, you to keep the following in mind when going for a 3D Printed pool:
Finalize the design and ensure all MEP considerations are satisfied by the appointed company.
Get an external expert opinion on maintenance requirements to utilize while designing the pool model.
Share all the relevant ground conditions and location logistics.
Check all the warranty and guarantees are in place.
In the next section, we will discuss how to 3D print small water fixtures and containers:
How to make PLA 3D printed pool and containers waterproof
The following applies for small fixtures and projects done by yourself and not by large robotic arms or gantries:
Change your 3D print settings to enable you to print larger layers.
Increase your extrusion multiplier/flow rate in order to over extrude the amount of plastic material you use to fill those gaps.
Use a good water-resistant filament material that is capable of withstanding water easily.
Increase the walls or perimeters thickness also known as the thickness of the exterior.
Uses a wider printing nozzle ranging between 0.6 mm and 1 mm.
Apply epoxy resin coat to seal any holes or gaps in your 3D printed pool design.
Increase your printing to achieve better layer adhesion.
Increase your infill density/percentages in order to fill the printed model more.
Perform some acetone vapor smoothing for ABS materials in order to smooth out any gaps or holes.
Can it be done safely? What Products to Use?
Applying these strategies will lead you through a better platform to finally develop real waterproof or airtight 3D printed swimming pool designs, whether made from ABS or PLA. The guidelines are all geared towards reducing and sealing the number of gaps, layer separations, and holes in your design during the 3D printing process.
One great product you can use to seal your 3D printed swimming pool model is by using the MG Chemicals Silicone Conformal Coating.  This is an amazing aerosol spray used to waterproof or seal ABS and PLA 3D print models.
How to Make a 3D Print Pool Waterproof
Creating a 3D print swimming pool that is airtight and waterproof, capable of holding water for a longer period of time, is very achievable. You simply need to follow the correct procedure. 3D printed swimming pool models with 150% flow rate, a wide nozzle diameter, and a large layer height works perfectly well to create airtight and waterproof models.
You simply need to increase your 3D printing temperature to help the design layers stick and seal up any potential gap. You then need to seal the final print model using epoxy resin in order to achieve better results.
Size limitations/possibilities of 3D Printed Pools
During the layout process, it is advisable that you take the dimensions of your swimming pool design from the 3D rendering and lay it out physically on the construction site. This will enable you to make changes to the location or size of the swimming pool before you begin excavation.
Advantages and disadvantages of 3D Print Pools over traditional pools
Advantages of 3D Printed Pool
Until recently, sketching of swimming pool projects was done on a blueprint or notepad. While this could give you an idea of what the final project would look like, you couldn't still envision what the model would truly look like when completed. One key benefit of a 3D printed swimming pool model is that you are sure the final project will look like what you imagined, and can also envision how the model will fit into your backyard.
Here are some of the advantages of the 3D printed pools approach over the traditional pools approach
Ease of creation and assessment of free-form concepts
3D printed swimming pool design software usually contains commonly used shape templates like kidney, circles, and rectangles shapes. Designers can make use of these shapes and alter them to fit your preference.  The software also enables you to visualize a vast range of variations on a single concept. This enables clients to make an informed decision on the most appropriate option for their style and home preferences.
Presence of custom-made ''moving'' designs
The 3D model of the swimming pool gives the client a clear visual experience that helps them understand various details of the pool's appearance before the actual construction. The software also offers motion to swimming pool designers and video features that have the capacity to simulate sound through a vast range of water features.
Contrary to the traditional approach, the design software also provides a richer and more detailed experience, which enables clients to have a clear and better feel of the entire plan.  
Perceive a clear visual model of the yard and the swimming pool
The software program provides a virtual tour future that enables clients to have a clear view of their new yard and swimming pool makeover from diverse angles and perspectives. The 3D swimming pool design software permits looking at the internal structure of your new pool. 
The 3D pool design software also allows depicting the swimming pool and the whole deck at different times. You can easily approximate the sun's position every hour, meaning that you are capable of viewing the backyard scenery in the evening, at sunrise, and during sunset.  With the 3D pool design software, you can try a vast range of LED lighting combinations to determine how they will appear at night.
Ability to review design alternatives conveniently
A makeover of the swimming pool and backyard serves as an investment and supplementary for every home. The 3D pool design software comes with diverse potential features, design concepts, and alternatives. This applies to the choice of possible materials to use as well. For patio covers, deck, interior finish, and perimeter coping, clients can opt for various colors and options that they feel will best complement their homes and landscaping.
3D swimming pool design software also allows for the testing of additional features to determine their mode of integration. Trying out possible features and creative inspirations and making quick alterations enables the designer to save more time on any future edits needed to the pool design. The 3D pool design software enables clients to review all alternatives and make well-versed decisions regarding the design of the swimming pool area.
Disadvantages of 3D Printed Pools
The initial cost of setting up a printer-The initial cost of buying and setting up a 3D printer that can produce 3D printed pool is high, even though the ROI (Return on Investment) is high and quick.
Printing time – When it calls for producing many 3D printed objects, these printers seem to be slow in comparison to using the traditional pool set up. 3D printed swimming pool involves long printing hours depending on the quality and size, but when there is a fault in the printer, you have to begin afresh even if you were almost done.
Most 3-D printed objects require post-processing before they can be ready for use. This may be expensive in the long run.
Require special skills – Operating 3D printers to produce 3D models requires specialized skills. Once you get the printer, you must learn how to produce 3D models. This is a skill that requires a lot of effort and time. However, you have mastered how to use the 3D printing software, the rest will be easy. 
Manufacturing job losses – 3D printing technology can make product prototypes and designs in a matter of a few hours since it only uses a single step. 3D printing technology eliminates many stages that are involved in traditional manufacturing. Therefore, 3D printing technology does not require more labor, hence reducing manufacturing jobs.